At a time when tuition rates at other classical and Christian schools are beyond the means of many families, we strive to keep our expenses reasonable so that our tuition will be affordable. This is accomplished by employing sound financial practices with professional oversight.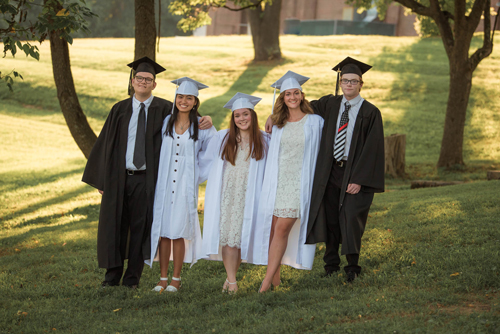 Before School and Extended Care Options
Before Care begins at 8:00 a.m. Extended Care is from 11:30-3:30 p.m. for Pre-K, 12:00-3:30 p.m. for K, and 3:30-5:00 p.m. for all other grades.
Before School Care (8:00-8:45 a.m.) – $15.00/day
Extended Day Care (12:00-3:30 p.m.) – $30.00/day
Homework Club (3:30-5:00 p.m.) – $15.00/day
Reserve Care in Advance-Same day reservations add $10.00 to Extended Day Care Rate, add $3.00 to Homework Club Rate
Make Reservations by visiting our School Store under the "Current Students" tab.
***Annual payment receives a 2% discount
Tuition Rates
Our tuition is both affordable and inclusive. There are no additional charges for books or registration.
Tuition for the 2023-2024 school year is:
PreK-3 : $2,600  (M/TH mornings – 9:00 a.m. to 11:30 a.m.)
PreK-4:  $3,300  (T/W/F mornings – 9:00 a.m. to 11:30 a.m.)
Kindergarten:  $5,350  (9:00 a.m. to 12:00 p.m.)
Grades 1-6:  $9,300 (9:00 a.m. to 3:30 p.m.)
Grades 7-12: $9,300  (9:00 a.m. to 3:30 p.m.)
Application fee:
Pre-K 3 & 4: $75, and K – 12th: $125
Tuition discounts available:
Sibling Discount: $500 for each child after oldest (prorated for Pre-K and K)
Active Military Discount: $500 off per family
Early Pay Discount: 2% off family tuition paid-in-full by July 1st
Financial Assistance
Financial Aid:  Tuition assistance may be available, based on the generosity of our donors.  Help is need-based, and assessed after a student is admitted using a third-party service in order to protect families' privacy.  Please call the school office to inquire about the financial aid process.
Grace Cares Scholarship Fund:  We are pleased to announce a new scholarship program for students that have financial need and are entering grades 6th through 12th.  For more information, please visit our Grace Cares Scholarship page.
Maryland 529 Plan: Formerly offered as a tax-advantaged savings plans specifically for college, two of the three Maryland 529 plans have been extended to tuition for private kindergarten through grade 12 institutions. Please click here for more information.
Manage Your Tuition
Grace Classical Academy is served by FACTS, a company dedicated to helping schools and families manage tuition payments. For those who wish to pay monthly, FACTS is the required means of making timely payments. Please click on the the picture below to set up your account and start using FACTS today.